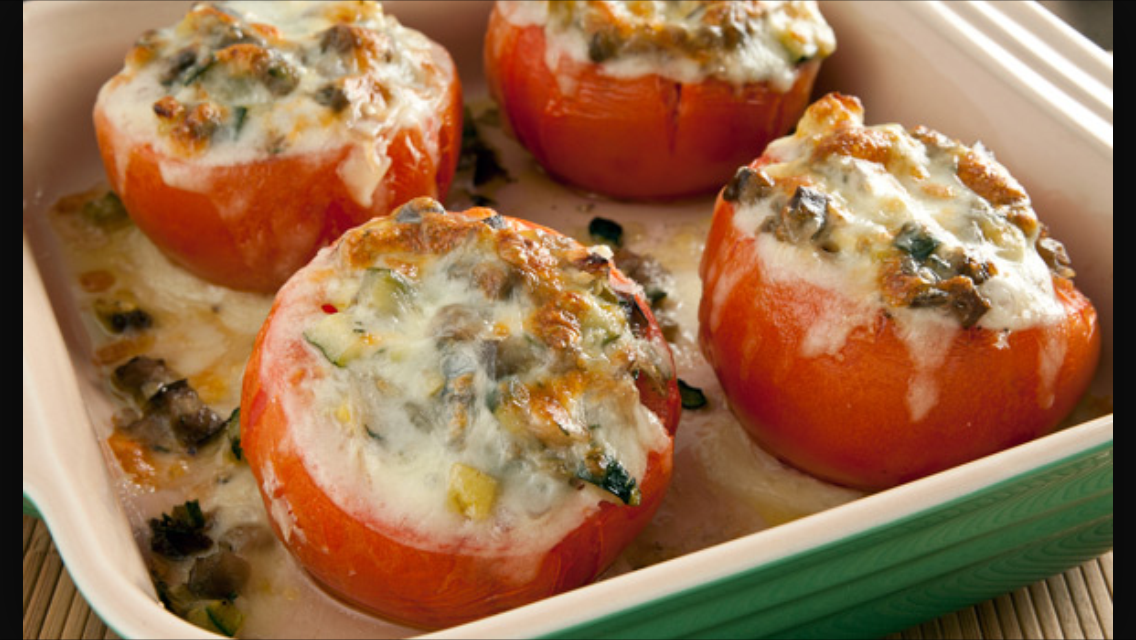 I've been trying to come up with alternatives to feast day dinners and Sunday roasts so that I don't feel left out on these celebratory meals. This dish is very satisfying and definitely ticks all the boxes for me. The goats cheese gives the filling a creamy, risotto like taste. The beef tomato easily boosts your veg intake for the day and is inexpensive. I usually have green salad on the side but homemade coleslaw or potato wedges are also good options.
Portions – 2 people
Prep – 10 minutes.
Cooking – 30 minutes.
.
Ingredients
4 beef tomatoes

160g brown rice, rinsed. Cooked according to instructions
8 cherry tomatoes halved
1 tbsp tomato purée
2 tsp fennel
6 tsp goats cheese
40g of walnuts
Salt and pepper to taste
Method
Preheat fan oven to 180C
Wash the Tomatoes and run a sharp knife around the top of each one. Pull the tops off and slice off any seeds attached to it. Scoop out the flesh on the inside of the tomatoes and place into a pot.
Add the cherry tomatoes, tomato purée and salt & pepper to the pot with the tomato flesh and simmer on a low to medium heat. Allow the tomatoes to reduce and their flavour to intensify. This simmering reduces the acidity of tomatoes and enables their natural sweetness to come through.
In a dry pan fry the fennel seeds for 30 seconds approx and add to the tomato mixture.
Put the brown rice into a pot and cook as instructed.
Place the beef tomatoes and walnuts on separate baking trays and pop into the oven.
After approx 5 minutes remove the walnuts from the oven and set aside.
The tomatoes should only need 10-15 minutes approx to soften slightly depending on their size. Once they are beginning to soften remove from the oven and set aside.
If there is a lot of juice in the tomatoes after baking you could add this liquid to the tomato and fennel mixture.
Once the rice is cooked and the tomato and fennel mixture has reduced and tasting delicious add the rice to the tomato pot and combine.
Next add the goats cheese and walnuts. It will become very creamy risotto like.
Finally fill the beef tomatoes with the ' risotto' mixture and return to the oven for 5-10 minutes until bubbling and delicious.
Remove from the oven and enjoy with coleslaw and green salad. Yummy!
.
Here's the juicy bit. . .
Its generally accepted that the health of your digestive system is paramount for your overall health. What you feed yourself can determine the effeciency of your gut and overtime may determine your ability to effectively digest and assimilate nutrients from your food and excrete waste products and toxins from what you've ingested.
Excess stress, alcohol, tobacco smoke, anti-nutrients, low fibre, excess sugar and processed foods all play a role in reducing gut health. Conditions like leaky gut, candida, IBS, chrons, constipation, diarrhoea, bloating, diverticulitis, can either be; linked to diet solely, greatly improved by or exasperated by what you eat. If our digestive system can't work at its optimum and be able to extract the nourishing foods from our diet and excrete toxins efficiently this can have a knock-on effect on all our other systems. It is said that 80% of our immune system is in our gut!
Gluten is a buzz word in health diets nowadays. Gluten is a sticky protein found in many grains. Wheat, barley and rye being the biggest offenders. Many people find this protein difficult to digest and can upset the digestive systems efficiency.
Brown rice is a gluten free grain. This is good news for your digestion. You won't feel bloated or sluggish after eating brown rice. Quinoa, gluten free oats, lentils, buckwheat, millet and amaranth are great alternatives, without the gluten.