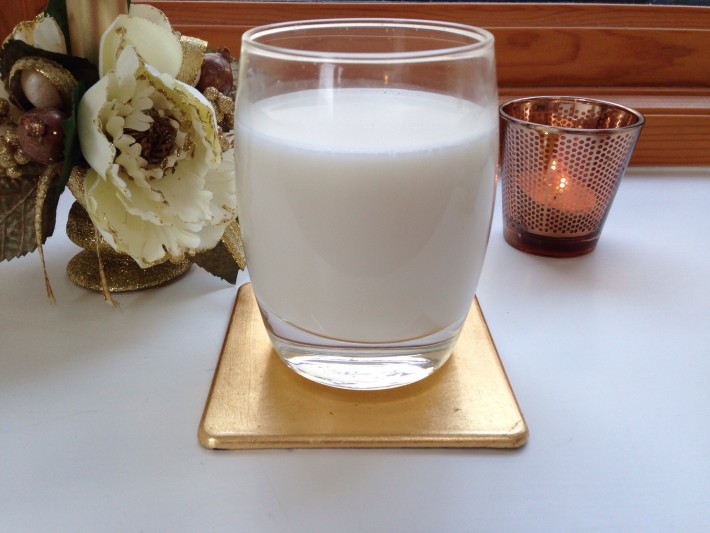 Many people are switching from cows milk to plant based milk for a variety of reasons. The only problem with shop bought plant based milk is that usually only a small percentage of the milk contains the nut or grain that has been used to make it. Also numerous extra ingredients and sweeteners are often added. So here I'll show you how to make your own milk from scratch which contains nothing but nuts and water, brilliant!!
Ingredients
• 1 cup blanched almonds (soaked overnight or for at least 6 hrs)
• 2 cups water
• you'll also need a muslin bag or jelly bag to filter out the ground nuts.
Method
Drain and rinse your soaked nuts. Place them along with the water into a food processor and whizz until blended into a frothy milk. Pour this mixture through your muslin cloth to remove the almond bits and enjoy your own homemade almond milk.
Here's the juicy bit . . .
If you're concerned about getting your calcium needs met after giving up dairy milk I've some good news!
The majority of dairy we consume nowadays has been pasturised. This means it has been heated to 71 degrees to prevent microbe growth and extend its shelf life. But this heating in turn effects the calcium changing it to calcium carbonate, a less absorbable form.
Our bodies function best in a slightly alkaline environment. However dairy products are highly acidic. Our body is constantly trying to maintain internal balance. If our internal environment becomes overly acidic our body tries to maintain equilibrium by neutralising the acid. Calcium helps lower our plasma pH so one of the ways the body reduces an acidic environment is to draw calcium from our bones. This helps to explain the link that countries with the highest dairy intake tend to have the highest rates of osteoporosis. Milk may not be the calcium rich health food promoted so heavily by the dairy industry.
The modern diet contains a lot of dairy. It is difficult to think of a meal without it. Milk, butter, cheese, yoghurt, ice cream, cream, crème fraiche, sour cream, milk chocolate . . . we like dairy and we tend to eat alot of it. I've become more conservative with my dairy intake and feel much better for it.
Good sources of plant based calcium I tend to eat are almonds, tahini, hummus, beans, lentils, quinoa, sesame seeds, chia seeds
& tofu.