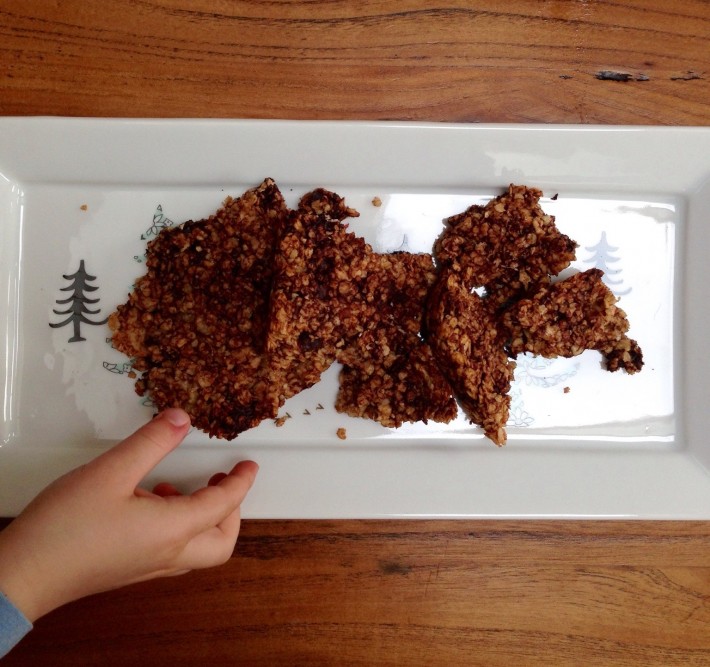 Being a young (ish) Mum of two, I'm all too familiar with a constant, fluctuating, crazy schedule.  Particularly the first 14 weeks when you wonder will life ever be normal again.
Unsettled nights followed by topsy turvy days leaves you asking why is my life nothing like the Mums portrayed on magazines covers and TV advertisements, always energetic and organised?
I found that I needed to fuel my body regularly in order to keep my energy levels up to deal with the physical  demands of breast feeding and feeling constantly tired from interrupted sleep.
Quick food on the go was needed daily. When both children are hungry the priority is always to feed the little ones and you just gotta wait!!
This is why I came up with this healthy flapjack. I wanted something quick to eat, highly nutritious, packed with energy and tasty of course! So I created this energy bar.
The oats give slow release energy and the fibre gives you a feeling of fullness. The banana and dates gives you an instant natural sugar boost and the chocolate makes these bars delicious! Hope you enjoy 🙂
Makes 9 flapjacks.
Prep: 15 minutes.
Cooking: 15 minutes.
Ingredients
3 tbsp coconut oil
3 tbsp maple syrup
2 medjool dates
2 tbsp almond butter
1 banana
50g 70% dark chocolate
150g of porridge oats.
Method
Preheat the oven to 170C. Grease a 20cm X 20cm baking tin with coconut oil. Melt the coconut oil, almond butter and maple syrup in a pot over a gentle heat. Meanwhile peel and slice the banana. De-stone the dates and cut into small pieces using a scissors.
Stir in the dates and banana to the melted oil mixture. Add the oats and stir well. Break up the chocolate and melt it into the oat mixture. You can add more oats, chocolate and syrup if desired.
The mixture is quite dry which is normal. Transfer to your greased baking dish and pop into the over for 15 mins. Remove and leave to cool for 10-15 mins. I usually pop the tray into the fridge at this stage for 10 mins to allow the oil to harden further and this helps hold the flapjacks together. Cut in squares and enjoy.
I store my flapjacks in an airtight tupperware in the fridge and they keep for days although you'll be lucky if little fingers haven't eaten them all sooner!!
Here's the juicy bit. . .
Oats are high in soluble fibre. Once soluble fibre is ingested it forms a gel by attracting water which slows down digestion and keeps you full longer. This prevents spikes in blood sugar and rates low on the GI scale. Great for diabetics. Soluble fibers can also help lower LDL ( low density lipoprotein -AKA bad cholesterol )!! by interfering with the absorption of dietary cholesterol.
Oats are a good source of protein and iron with one 40g serving providing approximately 10% of your daily iron needs.
The dates and bananas give a natural sweetness which won't peek your blood sugar like refined sugars. Dates are a great source of plant based iron and calcium which vegetarians and vegans need to ensure they are getting enough of.
The chocolate is indulgent naughtiness!!
Enjoy xxx